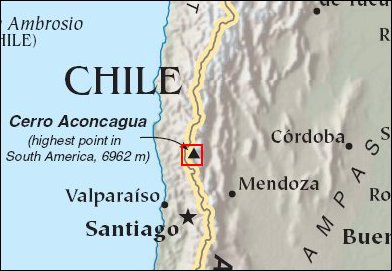 As the tallest mountain in South America, Cerro Aconcagua (or Aconcagua Mountain)
is one of the Seven Summits: the highest peaks on each of the seven continents. Its name is believed by many to come from an ancient native name of "Ackon Cahuak" meaning "Stone Sentry." It is 6,962 meters (22,840 feet) to the top of the North Peak, making it the second highest of the Seven Summits. Aconcagua is located in the midst of the Central Andes in Argentina, one range east of the ridgeline that defines the border with Chile.

The first recorded attempt to climb the mountainís summit occurred in 1833 by the German explorer, Paul Gussfeldt. Despite the limitations of mountaineering equipment in that era, very limited cartographic information, and with no knowledge of the conditions around the summit, he nevertheless managed to climb to within 500 meters of the summit. (The first surveying of the mountain was done two years later by Charles Darwin during the voyages of the Beagle.) In January of 1897, a Swiss guide, Mathias Zurbriggen, successfully reached the peak via a route pioneered the previous year in an English expedition in which he had been a member. It entered a valley near the mountain at Laguna de Horcones, ascending through the valley to Plaza de Mulas, and then back along the northwest ridge of the mountain. This route has since become known as the "normal route" and is the most popular and least technically challenging approach to the peak. A number of expeditions have since explored other routes. Many cross features named by the nations that first led these expeditions, such as the Polish Glacier, Plaza Argentina, and Plaza Francia.
In this image, the mountain and the ridgeline of the Andes dominates the scene. Vegetation in the area rarely grows at elevations above 4,000 meters (13,000 feet), so this natural-color scene centered on the river valley of the Horcones River appears very barren. The ridgeline to the west (left in this image) marks the international border with Chile and Argentina, and although Aconcagua is taller than any of the ridgeline mountains, much of the moisture from the humid Pacific air is already wrung from the atmosphere before reaching Argentina, leaving a "rain shadow" which makes the climate around Aconcagua relatively arid.