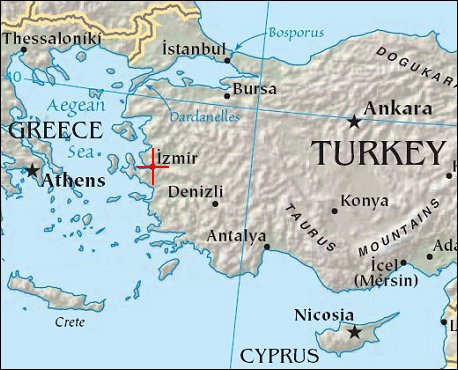 Located in the western Anatolia region of Turkey, Izmir is the country's third most populous city and its second largest port (after Istanbul). This astronaut photograph highlights the modern urban landscape of the Izmir metropolitan area. In addition to being a major trade center, greater Izmir is a hub for regional tourism.

The Izmir region has included urban areas for almost 3,500 years, and the ancient core of the city was originally known as Smyrna. Due to its location on the Gulf of Izmir (lower left) and its access to the Aegean Sea, Izmir has been an important Mediterranean Sea port for most of its history.

Today, the metropolitan area includes eleven districts, many of which were independent neighborhoods prior to agglomeration into "greater Izmir". Densely built residential and commercial districts, characterized by gray to reddish gray rooftops, occupy much of the center of the image. Larger structures with bright white rooftops are indicative of commercial/industrial areas near the port (image left).

Two large sport complexes, the Atatürk Stadium and Sirinyer Hippodrome (horse racing track) are visible at image upper right and image lower middle. Numerous vegetated parks (green) are located throughout the area.