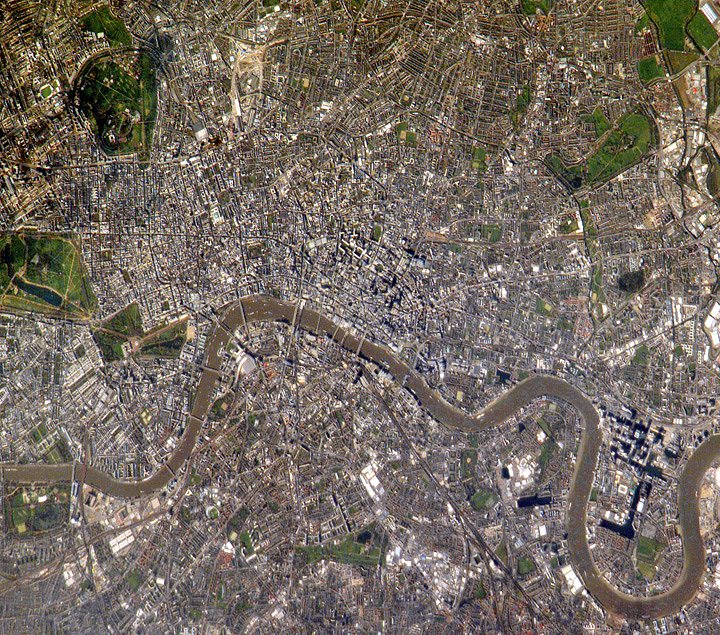 Numerous well-known landmarks appear in this detailed view of London (United Kingdom) taken from the International Space Station. To capture the shot, the astronaut had to look back along the Space Stationís ground track, from a position over northern Germany. The most striking visual features are green open spaces such as Regentís Park
, Hyde Park
and St. Jamesís Park
east of Buckingham Palace
. Many smaller parks indicate why Londoners are proud of being able to walk miles through the city mainly on grass. The River Thames - with its bridges and barges (some of the more than 14,000 craft registered to sail the Thames) - is the axis upon which the city was founded in Roman times.

The relatively small area known as the City of London coincides with the ancient walled Roman city of Londinium on the north bank of the river (the line of the wall is marked closely for almost its entire length by modern streets), and includes St. Paulís Cathedral
near where the Roman temple stood. For scale, the river is 265 meters wide near St. Paulís. The City is the financial center while Westminster is the center of government, including the Houses of Parliament
and 10 Downing Street, where the British Prime Minister lives.
Several large structures visible in this image are railroad stations: three serving areas north of London (Euston, St. Pancras, and Kingís Cross), and Waterloo Station serving southern Britain. The London Eye
, a famous Ferris wheel 140 meters high, is situated on an oval island in the River Thames, visible just west of Waterloo Station. Many larger buildings can also be identified, partly because they cast shadows - Buckingham Palace, St Paulís Cathedral, and the Tate Modern art museum (a converted power station whose 99-meter chimney was designed to fall just short of the crest of St Paulís dome).