| | |
| --- | --- |
| Earth from Space is a free eBook describing our planet from a satellite's perspective. Fore more information, please read the About pages. | |
Home Europe Sweden Stockholm
Search the VIAS Library | Index



Stockholm

Position of center of photo (Lat/Long): [59.32083/17.98862]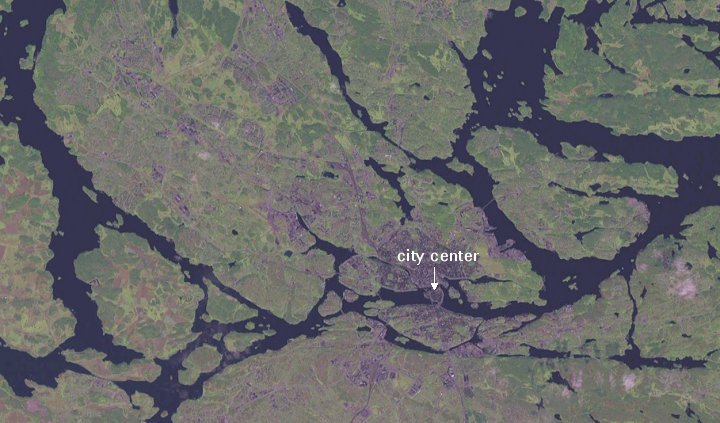 Stockholm is located at the boundary between the Baltic Sea and Sweden's third largest lake, Mälaren lake. The historic center of Stockholm both lies at the freshwater Mälaren lake and the Baltic Sea. The Mälaren lake has been separated from the Baltic Sea in the 13th century when the landmasses west of Stockholm lifted after having been released from the weight of the ice shield during the last ice period.

In the photo taken by the Landsat satellite you can see the center of Stockholm (Gamla Stan, white arrow). The water left of it is freshwater of the Mälaren lake, the water right to it is salt water and is part of the Baltic Sea. The area south to Gamla Stan is called Slussen (which means "lock") since the heavy locks provide a connection between the lake and the Baltic Sea.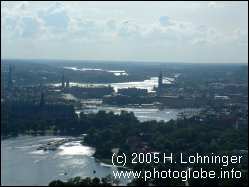 The city is situated on fourteen islands and on the banks of the archipelago where Lake Mälaren meets the Baltic Sea, which are joined together by 53 bridges. The city center is virtually situated on the water, in the bay Riddarfjärden. Stockholm is sometimes compaired to Venice or St.Petersburg. Click on the photo at the right to see a collection of photos of Stockholm.
Source of material: NASA
Further information: WikiPedia article on Stockholm
---
Last Update: 2011-03-30