| | |
| --- | --- |
| Earth from Space is a free eBook describing our planet from a satellite's perspective. Fore more information, please read the About pages. | |
Home Asia Japan Tokyo Bay
See also: Japan - Honshu, Tokyo at Night
Search the VIAS Library | Index



Tokyo Bay

Position of center of photo (Lat/Long): [35.49196/139.85638]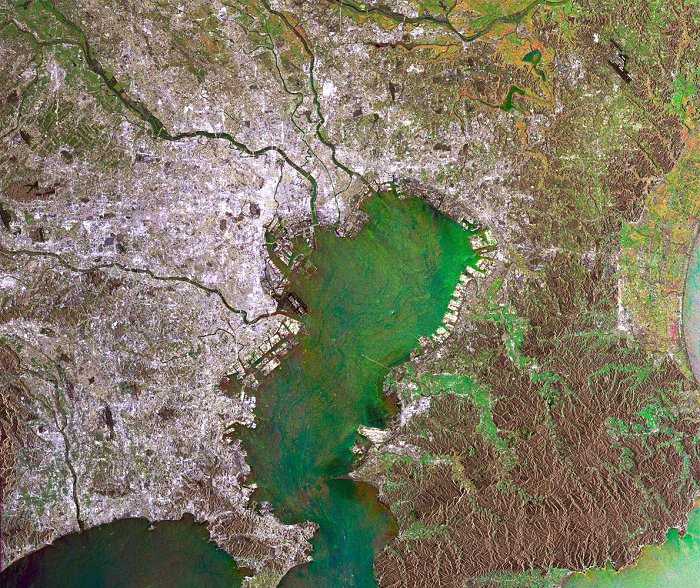 This Envisat image shows an area of about 10000 square kilometers around Tokyo (Japan). Tokyo's center lies mainly south of the Ara-Kawa river; other visible rivers on this image are the Edo-gawa river north to Ara-Kawa and Tama-gawa just south to Ara-Kawa, all three streaming into Tokyo-wan (Tokyo Bay).

A clearly visible example of modern infrastructure is the Tokyo Wan Aqua-Line, the trans-Tokyo Bay highway, with an overall length of approximately 15 km, composed of a 5 km bridge and a 10 km tunnel. The Tokyo Wan Aqua-Line opened in December 1997 and provides easy access from the south part of the Bay to the Tokyo area.

Spot the difference between the area north-west of the Tokyo bay, colours are predominantly grey and white, sign of dense construction and the south-eastern part of the Bay, overall brownish colours, hosting the Minami Boso Quasi National Park known for its beautiful beaches and wild flowers.
Source of material: ESA
Further information: WikiPedia article on Tokyo Bay
---
Last Update: 2011-03-30