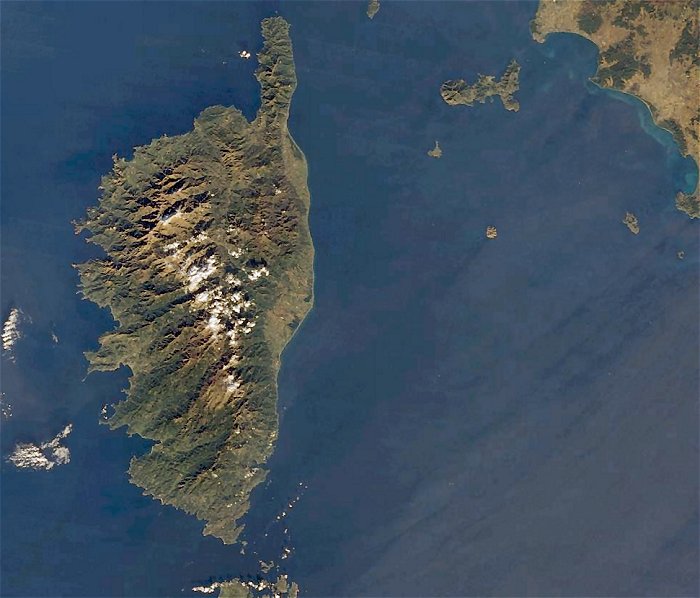 Rich in antiquities and picturesque landscapes, the island province of Corsica, France, have captured the imaginations of historians and poets alike for centuries.

Corsica, crowned with snow-capped mountains, jeweled with shimmering lakes, and cloaked in misty emerald forests, is situated in the sapphire blue Mediterranean Sea southeast of mainland France. The island enjoys a relatively warm climate consisting of hot, dry summers full of sunshine, and mild winters that rarely dip below 0°C (32°F).

In this scene, Corsica is the smaller island to the north. The island has almost 1,700 hills and mountains, ranging from 300 to over 2,700 meters in height. The tallest of these peaks is the snow-capped Monte Cinto toward the northern end of the island. Coursing throughout the island is an extensive network of rivers, carved into Corsica's granite face by snowmelt and rainwater runoff.
The Corsican Cape sits on the island's northern finger; its eastern slope is somewhat hilly. There are quite a few agricultural fields and vineyards visible as the light green swath to the south all along the eastern shore. Along the southern shore are the dazzling cliffs of Bonifacio
. Moving up the west coast in the state of Ajaccio we see a jagged, chiseled water front, reminiscent of the famous fjords of Norway. There are four large gulfs and many smaller rocky inlets sculpted into Corsica's west coast. Moving soutward, they are the Gulfs of Porto, Sagone, Ajaccio, and Valinco.